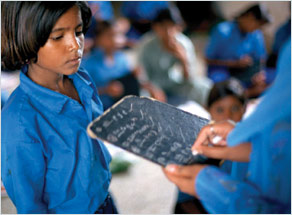 Help a young girl achieve her dreams in India.
Christian Aid partner Astha runs education camps for girls who have missed out on time in school.
The camps help young girls catch up on lessons they may have missed so they get the most out of their time when they return to school.
We made this our 2011 Christmas appeal and gave people the opportunity to make donations at all our Christmas activities.£96 buys a teacher for a term.
The result of our appeal is that we have managed to pay for a teacher for 5 terms. Many thanks to everyone who supported our appeal.