A group of people from our church together with friends from other churches from all over the country visited the Oberammergau Passion Play. The trip was organised by John Prestage our treasurer. This photograph includes Tommy our driver and Josef our guide. This photograph was taken in front of the Sporthotel Fuchs in Hopfgarten on the Austrian Tyrol.
Some of our party listening to our guide (with umbrella) on our walking tour of Saltzburg before crossing the river.
The dining room at the Sporthotel Fuchs .
Part of the Passion Play theatre, taken about 15 minutes before the 2.30 pm opening.
4,700 people are seated in the auditorium to see a cast of 2,500 perform. At times there are 800 actors and singers on the stage!  This theatre was constructed in 1974 and first used for the Passion Play in 1980.  However, it is used for other cultural events between the ten year cycle.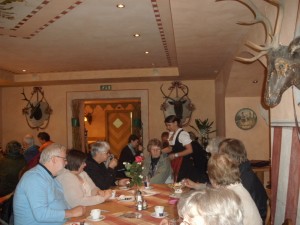 We visited the Lodge Tea Room at the 15th century Mountain Castle of the Hapsburg dynasty  at Tratzberg.  One or two people were noted for their attraction to cream cakes and exotic ice creams.
This is the group who stayed in the  farmhouse overnight in Oberammergau.  There was also a German couple in the farmhouse, but they disappeared before we could take a picture.
The  farmhouse itself which is large and typical of the area.