Our harvest weekend began with a delicious harvest supper. We were so pleased to welcome many guests from far and wide including friends from our partner groups.
On Sunday we celebrated Harvest with a service led by Revd Pauline Rate who told us about the Jewish Festival of Sukott.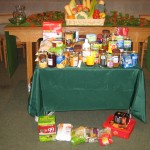 Our Harvest gifts were non- perishable goods which will be given to Bexley Women's and Children's Aid.
It was a happy weekend when we thanked God for his bountiful gifts but also remembering the many people in the world who do not have so many every day things that we take for granted. We pray that our commitment for social justice will continue to grow through our prayer and actions.